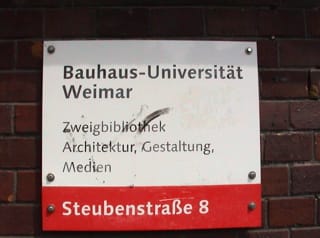 I'm off to Weimar tomorrow to start a six-month stint as Guest Professor "Gestaltung medialer Umgebungen" at the Bauhaus-Universität Weimar in the Faculty of Media.
It feels quite odd (and rather flattering) to be following in the footsteps of luminaries such as Josef Albers, László Moholy-Nagy, Walter Gropius, Vassily Kandinsky and Paul Klee (to name but a few), though things have changed quite a bit since then. There are still plenty of the original buildings though (including original murals and relief sculptures on the wall).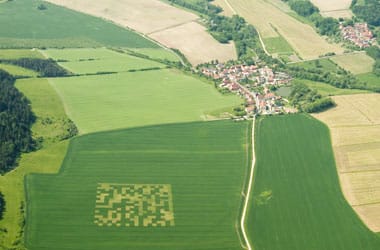 Photo stolen from Hello World.
My predecessor, Ursula Damm set a project which resulted Bernd Hopfengärtner's excellent Hello World! work - a Semacode measuring 160 x 160 meters was mown into a wheat field near the town of Ilmenau. I'm planning some playful interactive works (I hope!).
So, if any of my exchange students from Weimar or other folks that read this blog are there, get in touch. I'd love to meet up and see the sights.