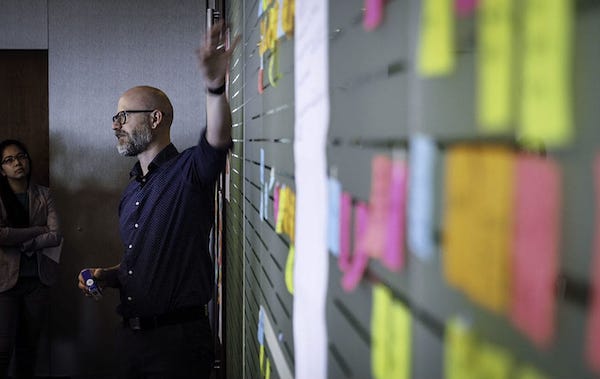 Photo: Leigh Whittaker
Hi, I'm Andy Polaine. I am a design consultant, writer, educator and researcher and currently Group Director for Client Evolution at the global design and innovation consultancy, Fjord.
For nearly three decades, I have worked in "digital" on projects ranging from interactive media promoting Levi's jeans to helping people with terminal cancer express how they feel, from re-thinking green transport solutions to re-designing the higher education experience.
I work directly with clients who need help understanding, designing and innovating their user and service experiences, from insight to implementation. This includes strategic insights through to helping clients set up and run their own multidisciplinary design and innovation teams.
Mentoring and Creative Coaching
Much of my work is mentoring client teams working on projects, giving external input and helping to push the creative thinking on a project into a different direction. Some projects need a divergent process to expand and explore unusual ideas and get the team out of a rut. Other teams are floating and too vague and need some help with focus and structure. This kind of mentoring is generally tightly focussed on a particular project or issue.
Workshops and Teaching
I have many years of experience planning, facilitating and teaching workshops. These include teaching groups new design methods and approaches, helping all stakeholders on a project generate and analyse insights, or kicking off change and innovation programs. Workshops can be for a small team of a few people, or for larger groups. I can handle up to around 40 people on my own and give enough attention to all, but 15-20 is the magic size.
Keynotes and Thought Leadership
I am a regular keynote speaker and presenter at conferences and at client events. It can be useful for leadership to hear an outside perspective when trying to a get a project off the ground with a new approach and to give them a taste of design doing, not just design thinking. Many things look easier said than done.
As one of the core writers of the Fjord Trends team, I provide strategic thought leadership and futurist forecasting for clients.
Writing, Podcasting & Academia
Throughout my career I have found teaching to be the best way to learn and writing a powerful path to creative thinking. I co-wrote the book Service Design: from insight to implementation, published by Rosenfeld Media—now one of the standard texts for Service Design—and have written over 160 articles and papers over the years.
I host Power of Ten, a podcast about design working at different zoom levels, from thoughtful detail to large ecosystems. I write a newsletter called Doctor's Note that contains a mix of longer form essays and short musing on design, innovation, culture, technology and society. Some of it appears here on Playpen, but you can sign up here to get it first.
Officially, I'm Dr. Polaine. I wrote my PhD thesis about interactivity and play. Prior to my work at Fjord, I led the Service Design specialisation on the MA Design at the Lucerne University of Applied Sciences and Arts, Switzerland. For more information on my academic life, writing and publications, take a look at the About Me section.
Clients
I have worked for many clients and international brands over the years. Here are a few: BBC Worldwide, the ABC (Australia), The Science Museum, NatWest, Razorfish, the University of New South Wales, The Omnium Research Group, magneticNorth, Massive Interactive, Animal Logic, Poke, Alex Proyas, AstraZeneca, Norton Healthcare, Live|Work, RiverSimple, Levi Strauss & Co. (for which we won a D&AD Silver Pencil), VW Germany, Telenor, Three UK, Mobiliar and International Peacebuilding Advisory Team, the Australian Tax Office, the Department of Human Services, Telstra, Optus, Qantas, ANZ, QBE and several others that I can't publicly mention.