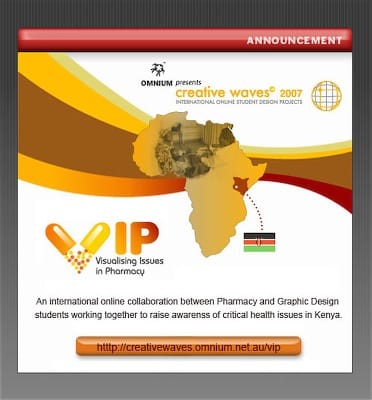 Omnium, the research group that I am part of (now online) in Australia, has just launched its next 'Creative Waves' global e-learning project 'Visualising Issues of Pharmacy'.
The 'VIP' project is the first fully online international education initiative designed to link students and teachers in pharmacy and Graphic Design departments from universities and colleges around the world, and will challenge a diverse body of students and educators to address important global health issues that are of critical concern in Kenya. These include malaria, tuberculosis, immunisation and sexually transmitted diseases.
I'll be taking part in this one too and it's great to see some of the philosophy behind the Omnium Creative Network coming together with the educational aspect of Omnium. The details are below:
April - June 2007
More info and sign up on the Creative Waves website.