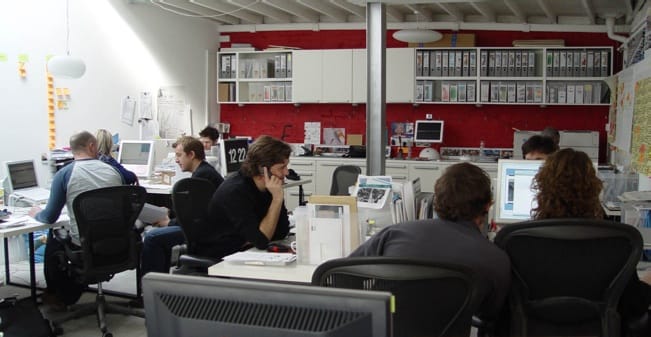 In another interview I'm re-publishing online, I talk with Ben Reason from service design agency, Live|Work. He explains exactly what service design is, its roots in product and interactive design and the difference between service designers and consultants, as well as the important role it has to play in a sustainable future.
Live|Work at your service
As designers we are often brought in at the last point in the process for any new product development. Our job has usually been perceived as 'making it look good'. That traditional role undervalues our skills enormously, because the design of a product, service or communication tends to be the first point of contact for a user. If that point of communication fails, the rest of the offering is useless regardless of the level of technological innovation or service. London-based, Live|Work plan to turn that relationship around. They lay claim to being the the first service innovation and design company in the world and to the term 'service design' a field whose origins are in product design and interaction design.
Most of us have had the experience of buying a nice, shiny new mobile phone with promises of greatness from the network only to find that when something goes wrong we're put on hold for 45 minutes before being put through to somone with slightly less knowledge that a lobotomised monkey. As we move into a world (in the developed world at least) that is based in a knowledge economy as well as the need to deal with sustainability, products no longer compete on price or build quality, but on service and green credentials, and that's where the growing area of service design comes into its own.
Live|Work was founded by the three partners, Chris Downs, Lavrans Løvlie and Ben Reason in 2001, and has now grown to fifteen people with offices in the UK, USA and Norway. Service design is an exciting emerging discipline because it resonates with the changes that the digital economy has wrought in terms of our experience and relationships to companies, products and even governments and the environment.
"We were unsatisfied with the internet consultancies and the fact that we would often be brought in too late on a project to affect the real issues of design - the overall value and desirability of the proposition as there was a Web assumption built in," explains Reason. "We also felt we had been designing services either for big companies that didn't know how to translate their business to the Web or for dotcom companies that needed everything – brand, communications, user experience – as well as a site."
During our conversation Reason and I discussed the notion of the 'networked mind', people who had either grown up, or worked for a long time, with networked media and services. When you are used to thinking this way as a designer, you start looking at everything in the world with those eyes.
"We all started working with the Web and didn't get indoctrinated by other media – you know how weird it is when a brilliant print designer can't design a web site. The guys at the Royal College of Art felt that they were different to previous years as they were more network minded and open to mess, change, collaboration and the fact that you cannot control the media as the user is part of it – it doesn't exist until they access it. There is a 'launch and learn' philosophy as opposed to the old product paradigm. This feeds directly into service thinking as services are never finished and delivered – they are accessed. In a way we bring some online processes to the off-line world."
It turns out that this way of network thinking is invaluable for service design because taking into account all the parts of the experience and service is at the core of the process. "Chris and Lavrans as trained product guys who grew up with the web thought a lot about what that meant and had twigged to the word service at the RCA with a 'the product is dead' kind of statement," says Reason.
"I was doing a Masters in responsibility and business looking at the social and ecological challenges to business and was inspired by [the book] Natural Capitalism which has a chapter called Service, Muda & Flow and describes the potential for services to create ecological efficiencies through better use of resources and better value provision to users. These two things gave us the pragmatic – this is what we do, and the value set – this is why we do it."
The notion of 'touchpoints' – all the moments that a customer or user comes in contact with the service or brand – is well-known in marketing. The aim, usually, is to ensure the brand offering is consistent at every touchpoint. Part of the challenge is identifying all the touchpoints and the emotional relationships customers have with them. It is a realm that has often been the province of corporate consultants, who tend to be more focused on selling more 'stuff' to 'consumers' – in essence a mindset that is about profits not people. Of course management consultants offer change for their clients in other ways, but frequently this is about applying their particular methodology to every situation.
The skill a designer brings to a the process, particularly from product and interaction design backgrounds, is putting oneself into the minds and shoes of the person using what they are creating and re-thinking each situation in terms of its own uniqueness. It's a bottom-up as opposed to a top-down approach, wholly appropriate for the contemporary world where companies are having to engage in a public conversation about their services, thanks to the blogosphere and a more knowledgeable consumer base.
"What we do that is different to the consultants is use design methods," says Reason. By using insights as inspiration rather than factual market data, they look forward to new possibilities rather than simply looking back at past results. "We test experiences through prototype staging of services on a quick and fast basis and we specify services in blueprints that work from a user experience point of view, maintaining a user centred approach throughout. We do now work with analysts who can back up a design with a business case, as that is essential."
The user-centred approach is gaining more and more value, according to Reason, with a lot of the conversation even at government levels being about delivery more than the brand. Or perhaps rather that delivery is the brand. "Design is relevant to service now because technologies affect the way they are delivered. Even the most human services, such as teaching, are now intermixed with technical elements such as interactive whiteboards, digital curricula," he says. "We see network technologies doing to services what mechanical production did to products in the early 20th Century – and the response to that was the Bauhaus and US industrial design."
Some areas are obvious, such as those with technological delivery platforms like the mobile phone company example. Many contemporary brands and products areallservice. When you sign up for a new mobile phone account the point of brand difference is not the phone – all telcos carry pretty much the same range – it is ultimately the service. Everything from how easy it is to talk to the people in the shop or on the phone, how easy it is to set up and change details online, how you are billed, and so forth. We might think we are buying a new product, but really we are buying a service.
Service Design is not limited to these kinds of industries, however, although it is the most obvious area. In fact Live|Work have just been working with a nail manufacturer to help them with innovation, proving that even non-technical industries are open to working in this way. Another past project was with the ONE North East Regional Development Agency in the UK. ONE provide services for people in rural communities, particularly the elderly. They were struggling with this and their public transport bill was the highest in the country.
Rather than recommending reduces services and redundancies (which might have been the traditional consultancy route), Live|Work tackled it as a service design problem taking in account a broader view. They moved up to Northumberland for a month and hung out with all the different people involved in the service, from healthcare representatives to the council chief executive to the private car owners who might have spare capacity.
This then allowed them to re-think transport as a 'mobility market' in its own right. Rather than simply put on new services that would be costly, they looked at spare capacity on community transport, from buses through to private vehicles, that were not being used all the time. The role of the new enterprise then becomes to 'broker' mobility by matching people with seats and working out a travelcard payment system. They reduced the costs of running the buses by half.
An important and urgent aspect to all of this is sustainability. It has been encouraging to see the tipping point of concern about climate change and sustainability that has happened in the last ten months or so. It is becoming the number one issue for companies and (most) governments worldwide, having moved on from being the province of green campaigners. Suddenly there has been an economic realisation that climate change will cost a lot of money if we don't do anything about it and, crucially for all areas of design, that an increasingly important points of difference for brands are their sustainability and green credentials. 'Greed is good' is transforming into 'green is good'.
Dealing with sustainability is all about thinking about the complete system, whether it is a cradle-to-cradle approach in product design, or open forums for customer peer support rather than call-centres that can't grow any bigger. Part of the way of thinking is moving away from the notion of individual ownership, something that the 'Web 2.0' and open-source sharing cultures have shown the power of.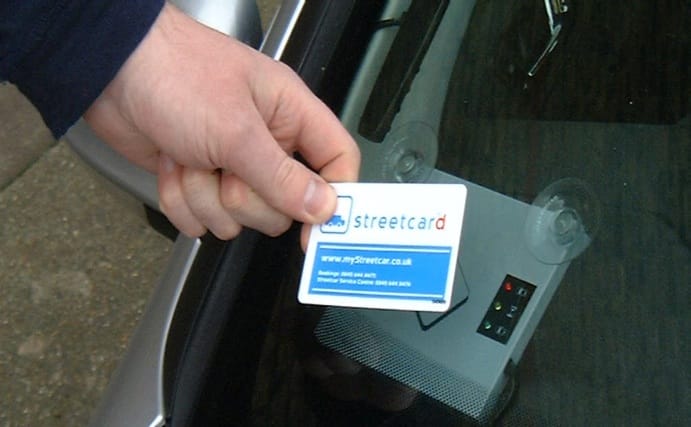 Live|Work applied this process to perhaps their most well-know project in the UK when they partnered with Streetcar. Streetcar is a pay-as-you-go car service, which challenges the idea of car ownership. Most of us don't need a car all the time, but we do need one occasionally. If you think of cars as a service, there is massive spare capacity when all our cars are in car parks whilst we work or stay at home and the result is an enormous waste of resources.
Streetcar works by having VW Golfs parked in locations throughout the city (London, Brighton and Southampton so far), which you can hire for as little as an hour, sometimes less. You sign up for an account and receive a smart card that allows you to unlock the car, then put in a pin number and your usage is billed to your account.
When Live|Work first met Streetcar they already had the car club in place, but still had some way to go. For example, customers were still being signed up on the street, which is expensive and doesn't make the process self-running. "We worked on all touchpoints from the call centre to print to software to web and worked on core processes such as joining and booking," explains Reason.
Even the most functional elements, such as the in-car technology, were brought into line with the design and are pleasurable parts of the experience. The cars even have a place you can plug-in your iPod and a fuel card to use in garages that then gets added to your bill so you don't even need to be carrying any money. "We did a full service usability audit and they have implemented all of the recommendations. On top of that Streetcar is making money and growing fast and is well researched – each Streetcar car takes six private cars off the road so there is a clear eco benefit," he says.
This is only the beginning of what may well become the most essential design discipline of the current century bringing together, as it does, many other disciplines to serve a greater goal. From private energy generation markets (i.e., selling the power from your home wind turbine back to the grid) through to transport, manufacturing, interpersonal and visual communications, understanding that these things are interdependent and how to make them work is the biggest design brief of all.
This article first appeared in the January 2006 Issue of Desktop Magazine - Copyright 2006 Andy Polaine & Niche Media Pty. Ltd.