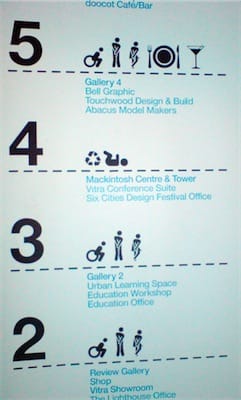 Whilst at Urban Learning Space I noticed the lovely, playful signage all around the building at The Lighthouse (originally a Charles Rennie Mackintosh building).

It was done by the Glaswegian agency, O Street and these toilet signs are great (inside the toilets there are more witty sign men and women - but I felt a bit seedy taking photos in the toilets…). They also used them for Jamie Oliver's Fifteen restaurants.
I always think that far too much public signage is too utilitarian and not enough people take the opportunity to be clear whilst still being witty and playful. People like a sense of humour and something that brings a smile to their day.