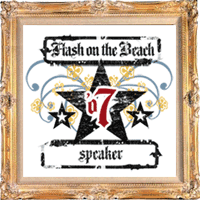 I'm very pleased to have been invited to speak at Flash on the Beach in Brighton. FOTB runs from 4th- - 7th November and my session is on the last day.
I feel a little bit of a cheat here as I'm not really known as a 'Flash guy' (and my students will know that I've railed on Flash plenty of times before - but, hey, the latest version really is a lot better). But as many of the speakers are going to be going into depth about their Flash work and techniques, I thought I would instead talk about approaches and a bit of history.
So, I'm going to be giving a presentation called Playful Revolutions, which really came out of the presentation that I gave at magneticNorth that Brendan Dawes invited me to give. He said "antirom were revolutionary, tell them about that!", which is a bit like being invited to "tell people how great you are", which I'm not and can't.
However, looking back over all those projects (good and bad) as well as things-I-wish-I-had-done turned out to be an interesting process. I think there is always a danger of re-inventing the wheel now that so many Wheel 2.0s are out there, so a bit of history (albeit short) is probably a good thing.
If you're going to be a Flash on the Beach, or just live in Brighton really, let me know. It would be nice to catch up.