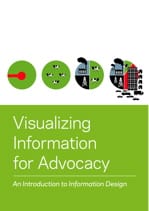 The Tactical Technology Collective have released a great little PDF booklet online called Visualizing Information for Advocacy: An introduction to information design.
It was designed by John Emerson, who writes the blog, Social Design Notes and is a pretty good intro to information design for anyone, not just advocacy organisations.
Because of the subject matter, it demonstrates very well how good presentation of information can be very powerful indeed. It's packed full will lots of great examples. from the now famous Hans Rosling work on debunking myths about the third-world, to John Snow's mapping of cholera deaths in London, made famous by Edward Tudte in Envisioning Information.
You can download it from the Tactical Technology Collective page or head straight to the direct link to the PDF.