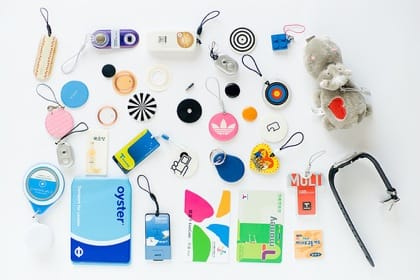 A selection of RFID tags from Timo's Flickr set.
Touch is a research project examining Near Field Communication that enables connections between mobile phones and physical things.
You will have probably used some of them already in your daily life - Oyster cards, swipe cards, etc. (see above image). It's an interesting cross-over of cultural and social practices and interaction, product and service design with a whole bowl of technology mixed in.
The interdisciplinary team led by Timo Arnell have been teaching at The Oslo School of Architecture and Design.
For anyone learning about or teaching interaction design and related disciplines, it's a great resource and they have also put all their design briefs online.