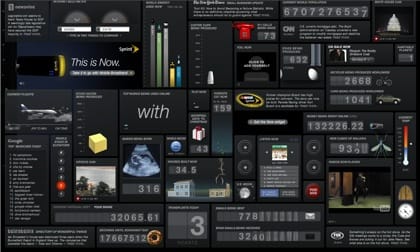 In keeping with the seemingly American obsession that more data one has the better (especially on TV), Sprint have launched a viral campaign called the Now Machine Widget.
Kottke says, "I don't know what this is or how it works or why Sprint is involved, but man is it fun to just let the data just wash over you." It's kind of fascinating, but also a totally overblown data overload and the kind of thing that would be unusable in any practical sense. (I often wonder how traders manage to spread their attention across so many screens. My guess is it is an illusion and that they can't - it just stops them having to bring different windows to the front.)
The design of the Now Machine was by Mike Kellogg for Goodby, Sliverstein & Partners.