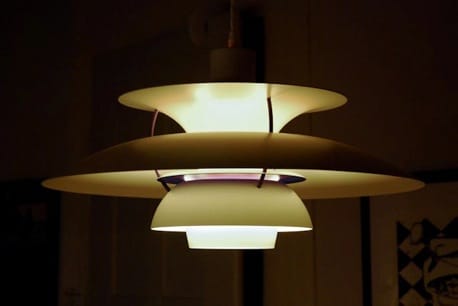 [Update 18th Nov 2012: I'm pretty much sold out of these now. I have a couple still with dents and dings and may be able to create one decent lamp or offer spares.]
_[Update 26th Jan 2012: I still have quite a few of these for sale. I will update here as soon as I'm sold out!]_
I have a fair number of second-hand original Louis Poulsen PH5 pendant lamps that I am selling off. The PH5 lamps were designed by Poul Henningsen in 1958 and remain a design classic. The various shades and cone mean that you can hang them low over a table and you rarely see into the naked bulb. The combination of the orange and blue inside colouring produces a lovely warm reflected light.
The batch I have are all from the 1970s were hanging in a large local council canteen (that's where the tax money goes then…) and they decided to renovate and remove them, so I bought them and have several hanging at home and in my office. They have all original parts and a generally in very good condition – some are pretty much mint condition. Most have very tiny marks, usually on the bottom rim, which are unnoticeable when they are hanging up, but I will send you photos of your actual lamp before any payment so you can be sure. The woven cable on all of them is a little yellowed with age, but you can clean it easily or replace it.
I've been selling the others on eBay, but I'd be happy to sell them directly and avoid the eBay and PayPal fees and split the difference in price. So, depending on the condition, they range from about 220 to 290 Euro, though I sell most of them for 240 Euro, cleaned. (They are still manufactured and new ones will set you back around 500 Euro /US$700+). I clean them up thoroughly too, but if you're willing to do that yourself, I'd be happy to knock a percentage off the price too.
If you are interested in buying one, please get in touch. If you're interested in several (i.e., more than five), I can dismantle them and pack them into fewer boxes to save on shipping – I still have enough lamps to kit out a pretty large studio.
Shipping around the world is possible and ranges from 10 Euro in Germany to 17 Euros Europe-wide. . The USA is 35 Euros (approx $49) and Australia and Asia is around 40 Euro (approx AU$55).