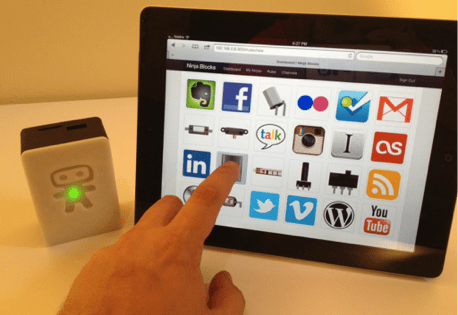 Ninja Blocks are a great Kickstarter project for anyone wanting to connect together their hardware world with Web services. From the Ninja Blocks blog:
How it all works
Ninja Blocks are simple but powerful open source hardware backed by an amazing web service called Ninja Cloud that allows your Ninja Block to talk to your favorite web apps.
Each Ninja Block comes with an RGB LED and built-in temperature sensor and accelerometer. Four expansion ports and a regular USB port allow you to add further inputs and outputs.
Ninja Cloud allows you to control your Ninja Blocks without writing a single line of code.
Tasks
Ninja Cloud allows you to program your NInja Block by creating Tasks. Tasks are made up of Triggers and Actions.
You can tell your Ninja to perform tasks like:
Talk to Siri and turn on the light
Take a picture of your front yard and save it to Dropbox when movement is detected
Switch your lava lamp on whenever your friends are playing on Xbox Live
Get a notification on your phone when a package is left at your door
If your baby is crying turn on a lamp in the hallway
(Via Reto Wettach's interaction design blog).