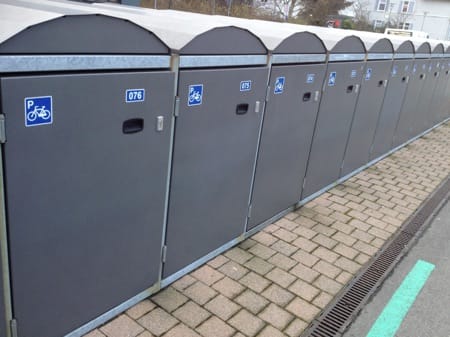 My home town of Offenburg has a whole load of Veloboxes at the station (at both entrances on both sides of the tracks). On one side they even have a Velobox and Lufstation (air station, where you can pump up your tires). The boxes are pretty large – the biggest of bikes would fit and I would imagine even two at a squeeze. They are in great demand and, amazingly, only cost around 15 Euros per year to rent, according to one user that I asked.
(As an aside, it's a shame these companies have such awful websites – but then check out the site of the guy who is credited with designing it. Notice anything similar?)
I suspect they are subsidized as part of Offenburg's effort to be one of the most cycle friendly cities in Germany. The city, which is small at about 65,000 people, has a bike hire service rolled out across it as well as free bikes that can be borrowed by visitors, free cycle-lane maps, and a hotline to phone in broken glass on the road to be cleared. The city also have a program to become an electric vehicle friendly city, with e-cars in their car-sharing fleet, public charging stations in prime places in carparks.
We also have grab handles for cyclists on traffic lights here, so you don't need to put your feet down and you can get a good start when the lights change to green. I'll try and photograph one soon.
All these small touch points add up to a sense of the city really being cycle friendly and gradually iron out some of the "glitches" that make cycling in cities irritating, such as cycle lanes suddenly ended at railings or a main road, or no cycle lanes at all. Why do the details matter? Because people's barriers to use are so low, especially when using a car is so convenient. The more the glitches are ironed out, the less excuses people have for not cycling (although it's -12ºC here today, which is challenging).