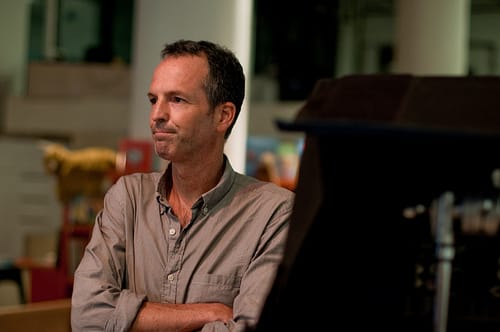 Photo: Gabriel de Urioste
What a sad thing to hear. The very brilliant and lovely Hillman Curtis died on the 17th April at the too-young age of 51. I watched Hillman completely shape the way many designers were thinking about Flash in the early days of Flash on the web and inspire many to get into the profession. Yet, of all the big design stars from those days, he was the least star-like person you could imagine.
I had the pleasure of getting to know Hillman at Flash on the Beach a few years ago where he hung out pretty quietly with his son Jasper – one of the coolest little kids around. Seeing Hillman speak at those kinds of events was always a treat and a break from the noisy braggadocio that sometimes defines design and creative conferences. His work was wonderful, but he spoke about it in a quiet, contemplative way that had the audience leaning forward, straining to catch the soft words of wisdom. I have no idea if he had any kind of religious beliefs or practices, but he was perhaps the most Zen creative person I have ever met. Despite his achievements, there seemed to be no trace of ego about him at all and he always had a sense of calm in the midst of chaos.
A couple of years later, I interviewed him for Desktop and, as ever, he was always interesting, always gracious and, above all, always interested. Nobody deserves to die at 51, nor of such a shitty disease as cancer, but in Hillman's case, it feels particularly unfair. My thoughts are with his family and friends who must miss their everyday contact with such a lovely human enormously.
Bye Hillman, knowing you, even just a little, has been a privilege.