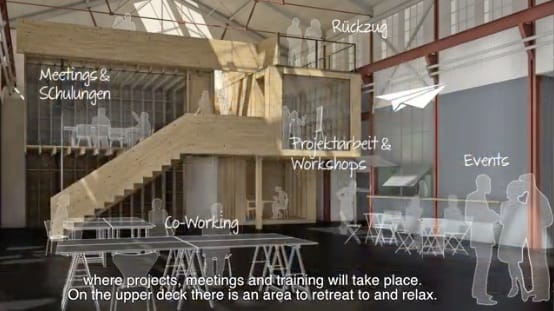 "At home you feel lonely and at the office you get nothing done."
True words from my friend and frequent collaborator, Andreas Erbe, from Launchlabs in Basel, although in my case, "at home you get nothing done and at the office you feel lonely," is also true.
Andreas and his colleague Tiziana Meletta have launched a crowdfunding campaign on the Swiss crowdfunding platform, wemakeit.com. They are building a co-working, co-creation and innovation space at Gundeldinger Feld in Basel and need some help reaching their final goal.
They are creating a "place where you can choose either to work alone, with a colleague, co-create in a team or host an event." Pledges range from a 10 CHF trip on their crane right up to 5,000 CHF for a lifetime workspace. That's pretty good when you consider you would spend that on about three months' office rent in Switzerland.
Please consider backing them, you can either head directly to the funding page or use the embedded version below. The video is in German, but subtitled in English (Andreas is half English, half Swiss, so feel free to fire off questions in either language).