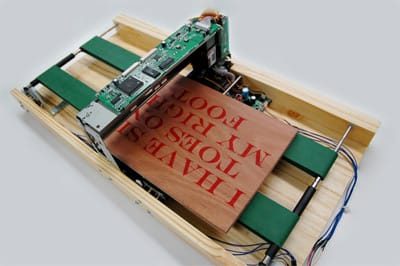 Great new project from Krister Olsson over at Tree-Axis called "The King Has…"
We all carry secrets we cannot reveal. Taking its name from the famous fable "The King Has Donkey's Ears," "The King Has…" Gives individuals an opportunity to unburden themselves of stressful secrets–be they their own or those entrusted to them by another person–by displaying the secrets in a public space under the veil of anonymity.
You will receive an automated message confirming receipt of your secret. If your secret is too long, you will be asked to shorten it and resend it.
Your secret will be printed on a piece of wood using a specially designed slab printer.
This piece of wood will be mounted on scaffolding at the heavily foot-trafficked stretch of 6th St. between Los Angeles St. and Main St. in Downtown Los Angeles.
It works via SMS and Krister has given up his mobile for the project, so he's probably going to keep getting a few when it's done…
The slab printer (above) looks like it does a very cool job of transferring the digital to the analogue real world. It's great when artists work out mechanisms like this.
Although your anonymity is guaranteed, I wonder if people will post other people's secrets to it. "President Bush is secretly really intelligent". Maybe not.
If you're in LA, go an visit the site too. That's the site as in the real place, in LA. Not the website stupid.