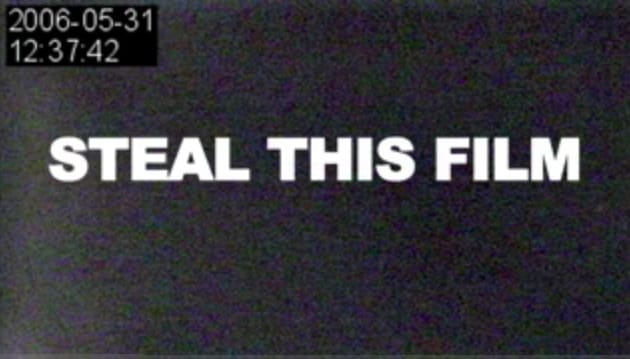 I finally got around to discovering, downloading and watching the documentary, Steal This Film about the MPAA's attempts to shut down the Swedish BitTorrent tracker site, The Pirate Bay. Of course it's available for free download at Steal This Film and the Pirate Bay and its method of distribution is, naturally, BitTorrent.
The interesting thing for me is that I decided to not watch TV tonight and watch this on my laptop instead. I unwittingly (well, maybe wittingly) did exactly what I said Apple's iTV media centre would mean people would do in my previous post. That is, I decided to watch some free, independently produced content instead. Because I downloaded the podcast version, it ended up in (the new) iTunes and it was a pretty seamless experience actually.
So here's the deal: Independently produced content, distributed for free essentially (because BitTorrent makes use of everyone's spare bandwidth) and it has already been seen by several thousand people (I'd love to know the actual numbers if someone out there knows).
Lawrence Lessig posted a link to a commentary on the film on Open Business, which makes a couple of key points:
The footage was simply stored on a 250 GB external hard-drive which now costs less than £80. The once-prohibitively expensive HD video cameras were borrowed and editing software, of course, downloaded. All in all the movie surely cost less than £2000 and had been downloaded by over two thousand internet users in its first day of release. While the movie makes some use of copyrighted material to illustrate its points most of it is either news footage from TV or original footage.
Later on the post says:
Remember Tarnation? Its just a year or two ago when this movie made international headlines, because it won a film price and was produced with a budget of 218US $ using iMovie. This was seen then as truly revolutionary.
Well, that was then and for distribution the movie still had to use professional networks to be seen an to get into cinemas. Now a couple of friends could also go with somebody like the Piratebay for marketing and distribution. This is film production completely outside the traditional industry. Its not too far off to see the Piratebay acting like a professional film company.
So combined with the ease of watching this stuff on your TV (and lets face it, sitting in front of a computer watching films is a little nerdy still, even though I do it quite often) and an open distribution model there are many costs that immediately get covered.
The filmmakers also set up the ubiquitous buy the T-shirt site and Paypal donation account so it might also make some money that way to enable them to make the second part. There's also a wiki if you want to contribute to the process.
The real point is that it opens up the debate about copyright and copyright abuse. Also frightening is the willingness of the US government to put pressure on the Swedish government to act illegally by raiding the Pirate Bay in the first place.