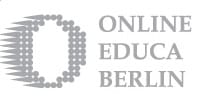 My colleagues and I from The Omnium Project will be conducting a workshop at the Online Educa 2006 Conference in Berlin on the 29th November and it will be introduced by the renowned E-learning specialist, Professor Gilly Salmon. We would love to see you there and make contact.
Our workshop is called Small World - Global Classrooms: Exploring the Potential and Advantages of Fully Online Global Learning Communities and essentially details the projects and research that we have been involved in over the last seven years or so as well as looking into the future. It's divided into four parts:
Part One: Research:
Enabling Collaborative and Creative Education Through Fully Online Global Learning Communities
Part Two: Teaching and Learning: Preparing and Teaching in a Fully Online and Communal Context
Part Three: Postgraduate Supervision: Hosting Local and Global Online Communities to Enhance the Postgraduate Experience
Part Four: Life-Long Learning: Education Meets Professional Practice via Fully Online Global Communities
Part Four is the section that I am presenting at examines at the rapidly changing nature of professional (and pro-am) life, the rise of social networks and online communities, etc. and how these affect education enormously.
For example, what are the educational expectations of a 18 year-old who has instant messaging friends all over the world, has their own MySpace page and blog and for whom Google and Wikipedia are the first authorities on anything in the world? The Academe has long tried to educate students about the values of refereed publications and reputable sources, but perhaps it is academia that is out of date. What is more influential in reality - an obscure journal with a expert readership in the hundreds, or Google with a user-base of millions?