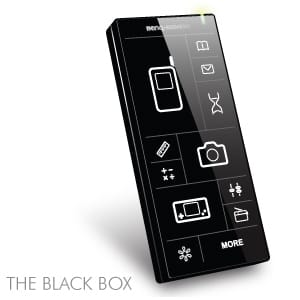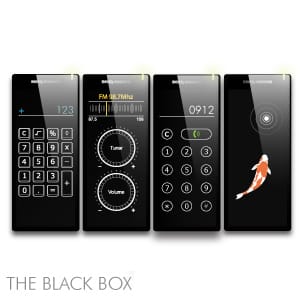 As most of us know, phones don't make brilliant music players or games machines. Sure, they can do that stuff, but the 0 to 9 buttons, tiny screen and perhaps a joystick are not the best interfaces. At present most mobile interfaces mimic desktop operating systems. They have a little folder and file icons that you have to navigate through. Most of them leave a lot to be desired.
So what if you made a black box that could do anything and was simply a touch-screen? That's the idea behind this concept phone from BenQ which just won an iF Design award.
Apart from its multi-modal interface and decent typography, it's nice to see something playful on there (the carp in the pond, which presumably is some kind of screensaver).
The only problem is that it's so nice and glossy and techno looking that it's going to become all scratched and nasty. It's a common theme with new technologies, which is why I like Hulger's collaboration with leather designer Bill Amberg. Leather looks better the more it is used and it also becomes more personal. There is still some thinking to be done in this area.
Via Mobiface.