I wrote a little while back about UVA and onepointsix's installation at the V&A; called Volume and it generated some discussion about the work.
I asked the UVA boys a bit more about it and here is the resulting interview:
AP: I really enjoyed Volume, it's very mesmerising and it also brought up some thoughts about the continuum of interactivity and reactive installations. I think the first thing that would be interesting for me would be to hear some of the motivation behind the piece and why you chose to construct it in the way you did.
UVA: The commission for Volume arose from an earlier site-specific work we'd created for the John Madejski garden, at the invitation of [onedotzero](http://www.onedotzero.com]. The piece was untitled but came to be known as 'the monolith'. We'd made a conscious decision to resist our natural impulse towards complexity and produce something very simple - a single band of colour and simple analogue synth sounds, becoming harsher and more aggressive as you approached.
Although the monolith wasn't entirely successful from an interaction point of view (we had more people than we anticipated, so it spent too much time in 'overload' mode), it did 'work' in that it created a powerful aura and transformed the space. As a result, when the V&A; were approached by Sony Playstation to create a specific work for the Playstation Season, they commissioned us to create something essentially 'similar but bigger'. We first explored the option of simply making a bigger monolith, or replicating the monolith (with three or four). From there it was a short step to a large regular array of 'monoliths' (multiliths?), at which point we realised the potential of creating an all-enveloping field of light and sound.
AP: In terms of the interactivity debate, whilst I could tell it was reacting to me, it doesn't create that kind of instant reactive-interactive feedback loop that normally I go for. By that I mean it is quite hard to 'work it out'. Yet, I think you showed that this ambiguity can be used to good effect as people seemed to approach the installation as if it had been deposited there by aliens - there was a kind of combined wonder and mesmerisation going on. Many people walked up very close to the pillars and stared at them or touched them as if trying to work out how to communicate with them. What do you make of these observations and is it what you expected?
UVA: The intention with Volume wasn't to create an 'interactive experience' in the sense you describe, or to elicit any particular reaction from visitors, including 'working it out'. Our previous experiences with that approach to design led us to believe that the problem of predicting the responses of groups of people is more or less intractable, except under simple circumstances like shouting 'fire' in a crowded cinema. People quite regularly fail to work out the simplest interactive models, because they're not expecting any interaction; they'll often stand and look at something as if it were a television ("it's not doing anything"); or else they'll work out the interaction model, get bored, and walk away ("yeah big deal").
Instead, our goal was to create an immersive, responsive environment that felt like it was alive in some way, and was pleasing to our own eyes and ears. The way visitors behaved, and the atmosphere the piece created, were emergent properties rather than design goals. For all we know there were just as many people who took a brief look and walked away unmoved.
For the record, the interaction model is very simple, as you'd see if you walked through it on your own (admittedly you'd have to turn up at 10am to get a chance to do that). Each column plays its own assigned melodic or rhythmic sub-part of the overall musical composition. Walk up to a column and it activates its sound and visuals; back off and it fades out. Stand still too long, and you become invisible to the system until you start moving again. With more than a certain number of visitors, the complexity generated by these simple rules overwhelms your ability to decipher them, but they are nevertheless there and regularly applied.
The key maybe is that the piece works in different ways on different levels - even when it's switched off, the contrast between its aggressive, regimented minimalism and the Victorian backdrop of the garden creates a powerful sense of presence. Even when the system is 'overloaded' with crowds of people, you can still walk through a musical/visual composition, get right up close to LED (which most people don't get to do), and in particular watch and enjoy the reactions of the other visitors - it's a group experience.
AP: I know many are interested in what is running the whole thing behind it technically? I don't know how much you want to say about that…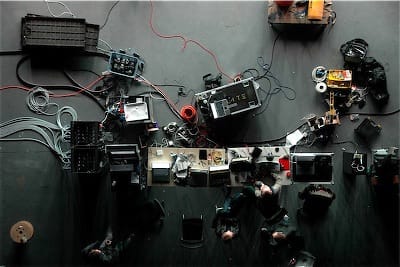 UVA: Dragonfly 3 [UVA's custom-built application] is the software controlling the installation. Exactly the same software that runs all our work.
The IR illuminated scene is captured using a strategically placed camera, with an IR filter. We then track the people in the scene and feed this information through to our visualisation system, which controls the LED. Midi signals also travel between a mac running Logic (for audio) and our visualisation system, to allow audio to trigger graphics and vice versa.
(More behind-the-scenes images and video.)
AP: Given your answer about the setting of the work in the V&A;'s Victorian space, can you imagine this being anywhere else? Are there plans for it to be re-installed/exhibited anywhere else? It always seems a shame that such an effort then gets removed again never to be seen.
UVA: We would love to see the installation in other spaces, there has been interest - watch this space!
But wait, there's more!
Last year I wrote an article for Desktop about UVA. As part of my plan to archive everything online, it follows after the 'Read the rest…' break.
Creating the Light Fantastic
When bands like U2, Massive Attack or the MTV Music Awards require visual backdrops they need more than just a guy with a laptop and a couple of projectors. Enter stage-right United Visual Artists, some of the very clever and creative folks behind the stunning U2 Vertigo World Tour visuals as well as a host of other remarkable projects.
To work on a giant world tour for U2 you must achieve two things it seems. The first is a seamless marriage of creative direction, engineering and technical brilliance. The second is to work harder than you ever have done before. Fortunately, London-based United Visual Artists do both with aplomb. UVA's combinations of video projections and custom-built LED and software systems have treated audiences to visual feasts that are truly unique, crucial in an industry so infected with the "been there, seen that" syndrome.
Creative Director, Matt Clark, and Technical Director, Chris Bird formed the company in order to pitch for the Massive Attack 100th Window tour in late 2002. Having won the job, they brought in Ash Nehru to write the custom software that was needed and after the success of this approach Nehru became Software Director of UVA in 2004.
Since then their projects and the company has grown. Annika Stark was brought in as a production assistant (although her responsibilities have grown since then) and last year they took on Interaction Designer, Joel Gethin Lewis, fresh from his stint at Fabrica in Italy. This year has seen even more expansion with the addition of two talented young motion graphics designers – James Medcraft and Dave Ferner – and Dave Green, an experienced C++ and visuals coder.
The group is necessarily interdisciplinary and although they are all flexible in practice each gravitates towards their speciality when deadlines loom. A significant part of their success is arguably due to their ability to marry screen and software technologies with product design and engineering. One such project is the permanent installation in Soho club, Kaberet's Prophecy, which explores the area between lighting and video. The walls feature a curved low-resolution LED screen, the main light source for the club, and can feature anything from 'digital wallpaper' to visuals that are performed live by UVA's VJs.
"Design and engineering is usually a group effort, with Matt concentrating on how it looks and feels, Ash concentrating on how it can be driven to get more out of it, and Chris dealing with the physical reality of making it happen," they say collectively. "Really the design side is part and parcel of the work - we take a sculptural approach, so that the physical design, choice of technology and setting directly influence content and programming."
The LED/video crossover has been highly effective for the group and they continue to explore new technologies in this area giving their work a certain flavour – one can tell it is a piece by UVA – without being repetitive and avoiding clichés. It takes a lot of discipline and hard work to keep pushing forward and experimenting rather than just falling back on what worked last time.
The very first Massive Attack tour remains a highlight for UVA. Not only was it their first major show, but also "a perfect confluence of timing, relationship with the client, balance of direction and creative control, and luck". This show used real-time data – from stock-market prices and world statistics to spam and virus alerts – trawled from the Internet and displayed in enormous LED-style text behind the band in order to give a 'picture of now' and was translated into 36 languages.
The Massive Attack tour was an example of what UVA does well: take an idea and hone it so that it has a simple clarity whilst simultaneously executing it flawlessly on a grand scale. It takes courage to work this way. The interactive LED monolith for the onedotzero transvision event at the prestigious Victoria & Albert Museum in London was a classic example of this.
UVA were given an already amazing space in which to exhibit, as the monolith was set in the new John Madejski Garden at the V & A, designed by landscape architect and designer Kim Wilkie. The garden is a modern take on a classical formal garden with lighting designed by Patrick Woodroffe, the lighting designer for the Rolling Stones. Instead of trying to outdo the design of the garden, UVA decided to go the other way and work with it, explains Clark. "We took a risk in creating something extravagantly simple, letting the surroundings do the work, and it paid off."
Their LED or 'low-res' video processing software was also used to great effect on the U2 Vertigo World Tour playing on the giant curtains of LEDs custom built by Barco and Innovative Designs under the direction of the show's director, Willie Williams. The LED curtains are made up of spheres that hang like strings of beads. Each sphere acts like a pixel, which means that the 'video' can be viewed from any angle.
So having worked with such a large crew and project as the U2 tour have they learned some valuable lessons? "Politics are important! It's crucial to have a clear idea of what the client expects of you, and to make sure you deliver it in a disciplined way, and manage their expectations," says Clark. "The problem is that these run counter to our somewhat instinctive, gut-feel (some might say seat of the pants) methods."
"What was most interesting about U2 was their willingness to take the risk of working with us, to trust their show to a completely new custom-built system, and to keep faith through the tough times - but also how much of the other technology had problems and issues as well. Being cutting-edge involves a certain amount of blood."
All credit to U2 and the rest of the show's crew for being willing to take those risks because it is the only way that real innovation happens. Saying 'yes, I we can do that, but I don't know how just yet' is rocket fuel for creative problem solving, especially in a live context.
"To a certain extent we've always been 'showmen'," says Clark. "Live performance is in many ways the strictest possible discipline - showtime is a non-negotiable deadline, and producing a show is inevitably about compromising individual vision and working within the bounds of the possible. It would be nice to think that we're not addicted to the stress and adrenaline of constructing a show (and the high that comes when it succeeds), but the evidence so far points against it."
Apart from various video feeds and custom generated imagery, UVA also work with interactive elements as part of their palette of techniques. However, not all clients understand interactivity fully. Many want the benefits, or rather control, of 'static' video content and yet the excitement and unpredictability of interactivity. This contradiction is still a while away from being resolved but the work by groups such as UVA certainly helps the cause.
"Projects in which targets are set at the outset (such as 'we want an installation that reflects brand values XYZ and makes people do ABC') tend to be less successful, because the code and the interaction push naturally in their own direction," explains Clark.
"Development is an inherently experimental process - a sequence of failures that suddenly hits an 'ah!' moment and becomes a success. Involving a large client in this process is a double-edged sword, because they can become frightened and try to reassert control, which inevitably results in them backing off from anything too radical. On the other hand, if you shut them out of the process, it doesn't help things either. It's not all down to the client - the onus is on us to manage this process better, learn lessons from previous projects and apply them proactively."
It is good to hear a creative group take some responsibility for this process rather than complaining about having to 'educate' their clients (or even 'firing' them). Nevertheless, when they have the opportunity, UVA still enjoy working on their own projects as this helps them explore that 'bleeding edge' in the comfort of their own time.
"Our approach is always to try and get something new out of the technology we're using (that includes display technology, sensors and software or interaction models)," says Clark. "We're always aiming to find something that we haven't seen or done before. Every time we try something new, we finish with a list of things that we could have done if we'd had the time or money - with each new project, we try to push those ideas a little further."
"There's very little 'targetless' tinkering at UVA (mainly because there's never the time). When we produce our own work (such as our live show for onedotzero, or our installations for the Kemistry Gallery and the V & A), we do get to experiment in a more open-ended way, and that R&D; eventually finds its way into commercial projects."
As the company grows one senses a deepening creating richness rather than a thinning out and commercialisation that so often plagues small studios. This is no doubt due to a common respect between the members and an understanding of how each ingredient creates the final dish.
"Each of us has a different personal vision - the key is how they come together on each project," says Clark. "In a way our company history has been to throw ourselves into the deep and swim like hell - it often makes for a white-knuckle ride, and doesn't always make for a successful project, and even when it does it certainly doesn't make for a quiet or balanced life. Part of our growing process is to learn to manage the risks better, and improve our planning, organisation and communication."
UVA may have taken the hard road but it has been one that has been a continual learning experience for all of them. For example, they write their own proprietary software (a combination of an engine called blip, and an application called dragonfly3), which most people think they are crazy for doing. On the other hand it gives them a level of control and innovation that off-the-shelf solutions cannot offer and the idiosyncrasies of custom-built code and techniques help define their unique visual signature.
Apart from using video to generate live performance elements, UVA are also working in the other direction using their coding skills to create the To The Music clip for Paris-based electronic act, Colder. The clip makes use of digital errors and artefacts to create an image of the band in which they appear as 'digital facsimiles'. The corrupt data streams from the fragile, warped images of the artists skewer the screen as 3D glitches in space.
The future of UVA sees them spreading their wings even further. 2006 has already been a busy year with the new Massive Attack festival tour on the road this summer as well as a performance for the Tate Modern Turbine Hall with a contemporary dance group.
"Just before that one off show, we will be going to Rome for the Dissonanze festival, where we will be creating a piece with many moving head lights," says Clark. They also have some more architectural projects on the boil that are currently under wraps, which will no doubt be impressive since they have already shown what they can successfully achieve for Prada in Taipei's 101 building, the tallest building in the world.
"So far 'success' seems to mean a lot of work, neglect of relationships, and very little time to enjoy ordinary life - you're only as good as your last project, and every project is another chance to screw up," says Clark. "Perhaps true success will come when we find a way to relax a little and achieve a more balanced lifestyle."
This seems rather a harsh self-judgement for a group that have already made visual and cultural history with most of their projects and have had the chance to work with some of the best artists and technicians in the world. Let's hope that they don't hang up their keyboards just yet.
The second portion of this post was originally published in Desktop magazine July 2006 Issue. (C)2006 Niche Media Pty. Ltd./Andy Polaine.