In general the main exhibition of Transmediale 07 left me pretty unimpressed. But that may be due to my general cynicism (or arrogance - I prefer cynicism) - something that Regine picked me up on. I think it is an Antirom trait.
It's perhaps that I've see a little too much of the Emperor's New Media over the years and feel the need to point out the nakedness. I'm still not that keen on one minute video loops on plasma screens hanging on the white walls of a gallery - I have to ask why exhibit them in this way?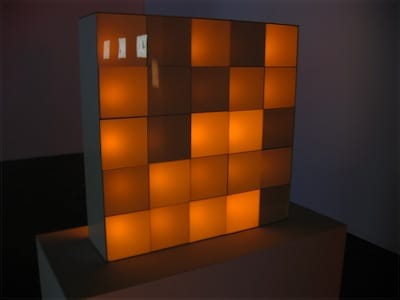 ](/images/2007/02/random_scrn_front.jpg) [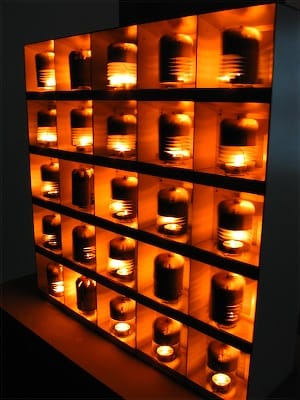 I really enjoyed seeing Aram Bartholl's Random Screen in the flesh though. It has a beautiful aesthetic and some wit behind it too lit, as it is, by tea lights spinning cut up beer cans via convection currents. UPDATE: You can view a video of it here and download the PDF template to make your own here.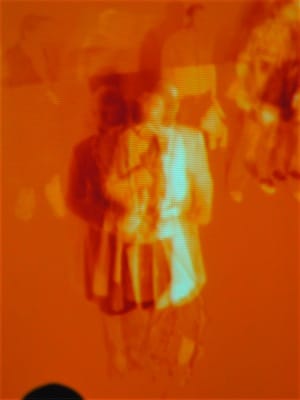 David Rokeby's, Taken is also worth seeing as it is one of only two interactive works in the exhibition (and the other one isn't really that interactive), something I'm sorry to see. I would have liked to have seen more interactive works and less tedious video art (sorry, there I go again).
Stelarc
Australia's finest art export, Stelarc, gave a brilliant talk last night about his work - WMMNA has a very thorough round up of it. It was nice to see a bit of humour and fun in the whole proceedings, which often feels that it takes itself a bit too seriously. (Stelarc has a great laugh that send everyone else off laughing - he could make a work from that ripple effect alone).
I was interesting to hear how he referred to his own body as "the body" quite often and that it was, for his work, "not a site of the self". I wondered about the paradox here, because to be suspended by hooks through the skin and for several other performances, he must need all his self control and discipline, even if it is to remove the self.