I've just been introduced to a wonderful book.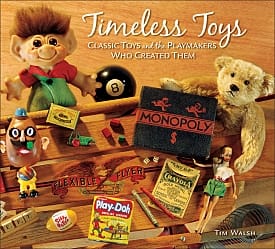 It's called Timeless Toys: Classic Toys and the Playmakers Who Created Them
, by Tim Walsh and documents the history and development of classic toys.
The original, self-published, book was called The Playmakers: Amazing Origins of Timeless Toys and Tim has a website and blog of the same name. I'm still waiting to receive my copy, but there are several excerpts on the Playmakers site that document the history the Super Ball, The Slinky, Jenga, Pez and Play-Doh (did you know it was wall cleaner?).
All the stories are inspiring examples of people thinking totally outside of the box and putting everything they had into an idea that they were sure would work, even if they had huge fears about it. Most of them are incredibly simple too and plenty were the result of accidents or of playing with materials. There seems to be a real sense of inventing things and then seeing what they might be useful for, rather than the other way around. It's quite a Google approach to working and a real antidote to all the marketing/functional specification driven projects that are so often part of our daily jobs.
For extra, slightly nerdy thrills, there are also some fascinating patent diagrams Tim managed to dig up. The G.I. Joe one is particularly weird.
Thanks to my PhD supervisor, Ross Gibson, for the heads up.