If you read Russell's great post, Reskilling For An Age of Things and sympathised with his woeful soldering skills, these BlinkM programmable RGB LEDs might be just the thing to kick start a project.
They are RGB LEDs with a tiny programmable microcontroller to change the colours easily. You can plug them into an Arduino and program them or you can use their natty little sequencer (see below) to create colour sequences. Think of it as a drum machine for colour.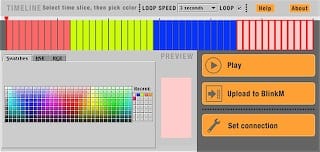 They only cost $12.95 from Sparkfun. Maybe I'll actually get around to making something (I might even make something talk).
(Via Tinker.it. More images in todbot's Flickr set.)