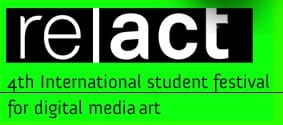 Monika tells me this is a great festival for student media-arts work. It looks good to me and I think I saw some work from it last year.
It's a good opportunity because media-art work can be expensive to build and often students are overshadowed by artists with grants who can afford some kind of techno utopian vision. So, crack out those Arduino boards and Processing and submit something.
Re/Act 4th International Student Festival for Media Art
In 2008, re/act, the international student festival for digital media art, takes place for the 4th time. Art and design student from all over the world are given the opportunity to make their works known to a wide audience and to make new contacts with a network of curators, cultural policy makers, gallery owners, professors, students, and the media.
re/act's competition addresses students of artistic study programs. An international panel of experts will select the world's best works from all entries.
Awards go to works from the following disciplines:
Video Art
Interactive Art
Live video & performance
Game Art
The deadline is February 1st 2008 and the submission form is downloadable from the re/act website.