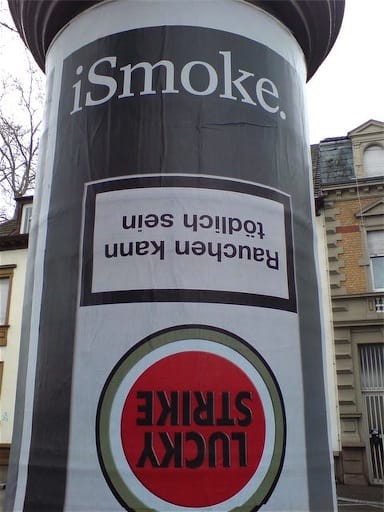 I walked past this 'iSmoke' ad for Lucky Strike cigarettes the other day. How wrong? Let me count the ways…
It's lazy creative. This is a one-minute lame idea that borrows everything from someone else's campaign, badly.

The type is wrong. Apple use Myriad for the iPod campaigns (and most other marketing) now. It's also badly set.

iSmoke - what kind of message is that? I think it's a response to the partial smoking ban here in Germany. The right to kill yourself and others around you is highly regarded by many.

The equation of the Lucky Strike packet to the iPod? That's part of the one-minute lame idea. Bored creative sitting in the pub with iPod and cigarette packet on the table sees easy idea.

The deliberate youth targeting.

The possible attempt to obfuscate the health warning.
Any more that I have overlooked?
Not that I really want to see more cigarette advertising, but I haven't seen anything that's remotely clever for about 20 years. It's as if the ad industry has just given up on it being a lost cause.