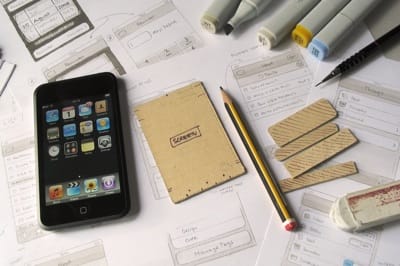 There are a couple of great shots of prototyping on paper over at at Cultured Code's blog for Things, their task manager app that they're bringing to the iPhone and iTouch.
Kudos to Cultured Code for putting these up online. It's really great to see how other people go about it and I really like Chris's use of hand-made stencils to draw out the various buttons and layout in pencil, pen and marker.
Much as I love OmniGraffle it's somehow gratifying to see that an app for the most sophisticated mobile device on the market is still designed with low-tech tools. I hope my students believe me now.
p.s. In the comments there is a note from Todd Zaki Warfel who is writing a book a book on prototyping.
p.p.s. For those of you who really, really don't want to leave the womb of OmniGraffle, GraffleTopia has a nice set of iPhone Stencils to download.