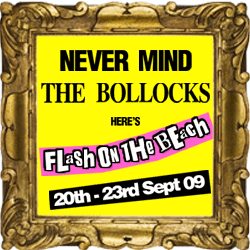 Flash on the Beach 2008 is coming soon: September 28th - October 1st in Brighton.
I'm not speaking this year, but plan to be there to write about it for Creative Review again. It'll be nice to relax into being in the audience rather than worrying about my own presentation.
I've been to a fair few conferences and some of them can be fairly elitist beauty pageants, but FOTB is by far the best I've ever been to thanks to the hard work and personality of its founder, John Davey. The event feels like a family gathering and the quality of the presentations is usually excellent, often showing things you won't have seen elsewhere.
The line-up is looking impressive and Jonathan Harris's session should be worth the ticket price alone and no doubt Robert Hodgin will inspire another round of Flashers to get into Processing.