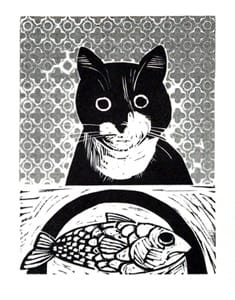 Christmas Dinner by Peter Polaine
Quick plug for my dad, Peter Polaine, who has an exhibition of his woodcut prints on at The Pin Mill Studio in Suffolk at the moment until the 18th July.
If you've ever wondered what Playpen's dad sounds like, he was interviewed by Georgina Wroe on local BBC Radio today. He told some anecdotes about his time at art college where he studied alongside the likes of Ken Russell and Peter Blake as well as surprising me (and the presenter) by his choice of Banksy as one of the contemporary artists he likes and Brandy Carlile's The Story for his play-out music. (I'd not even heard of her over here in the 80s music wormhole that is Germany - sigh).
You can listen to the BBC's RealAudio (why do people still use it?) version of whole programme here or my edited MP3 version with just the interview and in the player below: