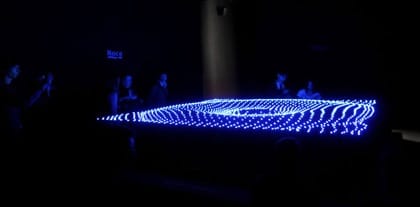 Hector Serrano has finally presented his Waterdrop installation for Roca at 100% Design London. I wish I was there to see it myself. It looks like a stunning installation with hundreds of rods tipped with blue light set into a 'floor' that can undulate like water ripples.
There are plenty of images and info on the site and be sure to check out the Making Of… gallery.
Hector's next project is designing and curating Spain Emotion at Tokyo Designer's Week 30 Oct - 3 Nov 2008.
(I did an podcast with Hector for Core77 a while back for your listening pleasure…).