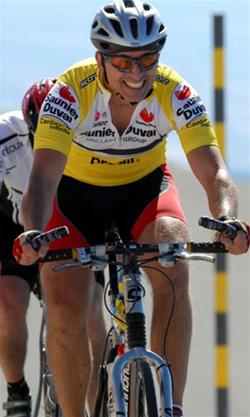 Matt (insanely) cycling up Mont Ventoux, Bedoin in 2hrs 13mins
My brother, Matt, beat cancer back in 1996 and is, thankfully, still with us.
On the 26th July 2009 he'll be taking part in the UK's toughest cycling endurance event (open to the public), and the third toughest in the world, the LEL 2009.
LEL stands for 'London to Edinburgh to London' and is the premier Audax UK Event, held every four years. The aim is to cycle the 1,400km within 120 hours. To do the event will require 280Km of cycling everyday, for five days, including through the night and with minimal support.
The aim is to raise more than £1,400 – at least £1 per kilometre – for the charity, Orchid, which is the only UK registered cancer charity to focus entirely on the male-specific cancers. Male cancers don't get that much press attention and men don't discuss testicular, prostate or penile cancer too easily either. Orchid aims to help raise awareness of these cancers that are more prevalent than you might think (1 in 14 men are at risk of prostate cancer in the UK and one man dies from it every hour, for example).
If, like me, the idea of even cycling one-way to Edinburgh fills your body with horror, let alone cycling back again, at least you can make the effort with your fingers and sponsor Matt online.