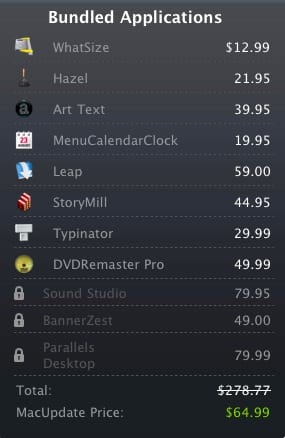 After the disaster I had with MacHeist I decided to go for the new MacUpdate Promo Bundle, mainly because of Sound Studio and Parallels. The last MacUpdate Promo worked well for me - none of the billing hassles of MacHeist, nor the arrogance of John Casasanta.
There are a couple of lame apps in there like Art Text and BannerZest, but also a bunch of useful utilities like Typinator, Hazel and Leap. I've also heard some writers rave about Story Mill. An added bonus is WhatSize, a little app that clearly shows up what's guzzling your disk space (more useful than I had imagined).
I'm guessing that Sound Studio, at least, will get unlocked, which will save me much paid with my podcasts even if Parallels fails to make it, and the other are useful (I used to use Textpander and now Typinator all the time).
Anyway, stop reading this and go buy a bundle so that Parallels gets unlocked!