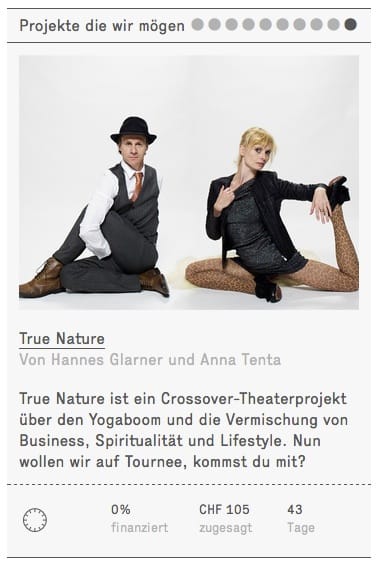 wemakeit.ch is a new Swiss crowd-funding platform in the style of Kickstarter. It is the "Schweizer Crowdfunding-Plattform für Kunst-, Musik-, Film-, Design- und andere kreative Projekte" – art, music, film, design and other creative projects – and the work of Jürg Lehni (@juerglehni), Rea Eggli and Johannes Gees (@johannesgees).
As with Kickstarter, you look through the projects and back the ones you are interested in. If it doesn't get funded to its required amount, you don't pay. If it does, you do. At the moment the projects definitely have a more film, theatre and art slant than Kickstarter, but it will be interesting to watch this develop over time.
It's great to see a non-USA version of this happening. Not that there is anything wrong with the USA in this regard (I've backed a couple of Kickstarter projects), but they are naturally very US-centric. Note to my students: This is a huge opportunity for Swiss design graduates to get out there on their own without having to find a big commercial backer. Get on there now!
At the moment the site is in German, but French and English versions are coming in Spring, according to wemakeit's Twitter updates.
(The image above is from the bid for the project, True Nature, "a crossover theatre project about the yoga boom and the mixing of business, spirituality and lifestyle." They want backing to go on tour.)